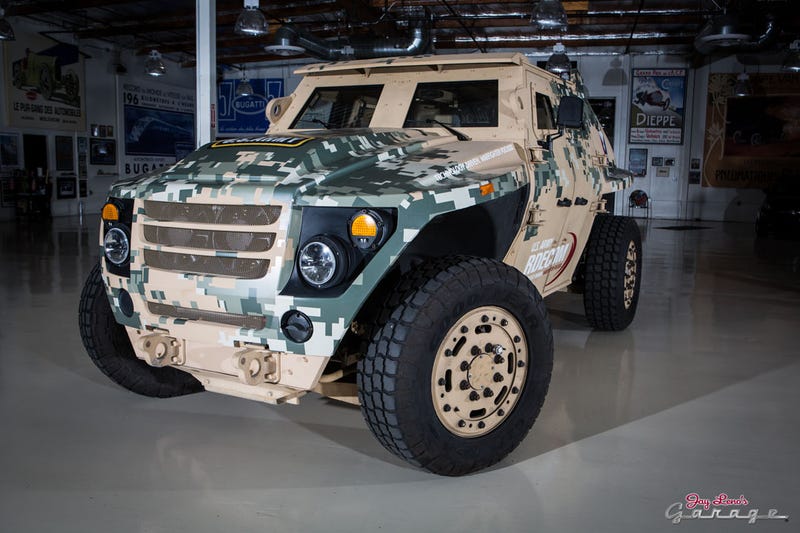 I was never a huge fan of G.I. Joe but in the 80s when M.A.S.K. came out I was hooked. I remember watching the cartoon while playing with toys named Rhino, Slingshot, Detonator and Goliath. The vehicles were based on real world counterparts like the Corvette, Bronco, and Jeep. And the best part was that they transformed into full-fledged assault vehicles, like a six-wheeled '57 Chevy BelAir with a turret and lasers.
So when I got the call to see if we'd be interested in featuring the Army's future combat vehicle the F.E.D. I couldn't say yes fast enough. I saw a few photos of the thing on the web and all I can say is that the photos don't do it justice.
The F.E.D. is ground up innovative approach at a replacement vehicle for the HMMWV. The main goals were to create a more fuel-efficient vehicle (7mpg) that could protect soldiers from the current barrage of attacks (roadside bombs, etc). From my vantage point the Army did just that! The thing is solid as a tank, with run-flat tires, air ride and a host of other features that make it cutting edge. The power plant is a 4 cylinder Cummins turbo and supercharged 4.2 liter diesel that puts out 200hp and 568 foot pounds of torque.
The interior is very spacious and comfortable; I assume they designed it around soldiers in full gear. I certainly had enough room to put my feet up in the back. The seats were the kind you see a bus driver on so even with a bumpy road it felt like you were floating a bit. Having Jay drive us around on midnight patrol in Burbank is as close as I'll get to being enlisted in the Army. I fully respect our service men and glad that the Army is taking steps to improve their equipment.
Take a look at Jay's review below. If you want to get in touch make sure to follow us on Twitter @RobertAngelo or @LenosGarage and subscribe to our YouTube channel for the latest videos.