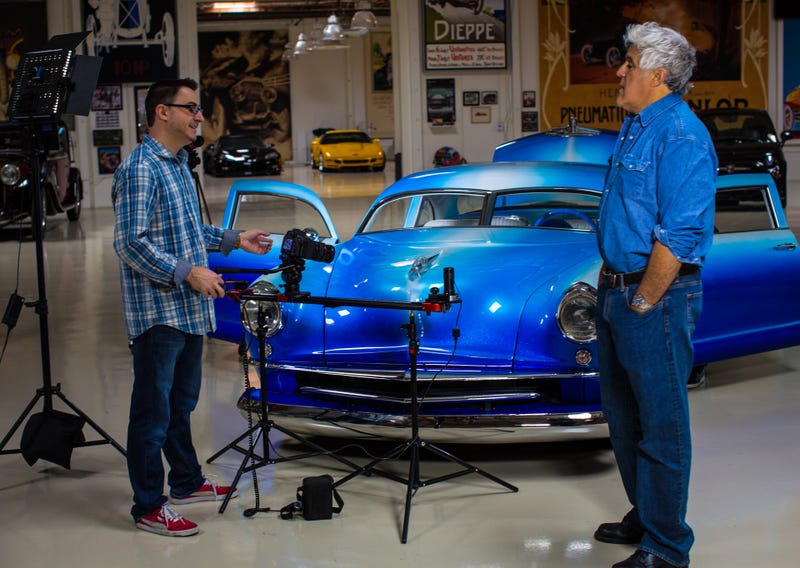 What would you do if a celebrity asked you to document their passion for anything that rolls, explodes and makes noise?
Let's start at the very beginning. About 6 years ago (2007) I went into a pitch meeting at The Tonight Show. At that time I was handling all things digital for the NBC Late Night properties and we were working on comedy ideas for the online space. The Producers of the show and Jay didn't seem very receptive to our concepts. (They looked bored.) As I was going through the last idea Jay started to leave the room. (My pitch was that bad.)
At that point I had to kick things into high gear. Before Jay left the room I blurted out, "What if we create a show about your car collection?"
"You'd do that?" he said.
"Yes, absolutely!" I replied.
"When can you start?"
WOW! What did I just get myself into…
When I was a kid I was always into cars, my dad had a few Porsches and my neighbor couldn't lift the hood of his MGB without me sticking my head in there and screaming, "What does that do?" I remember begging my parents for a 1965 Mustang Fastback, to which they said, "You'd kill yourself!" And based on my skate boarding and BMX track record, they were probably right.
So unfortunately the majority of my automotive knowledge came from traffic school, reading the occasional Road & Track, and Motor Trend at the Thrifty's drug store down the street from my house. And like most other 16-year-old boys in the early '90s "Prints Plus" posters of a Lamborghini Countach and Ferrari Testarossa hung over my bed while doodles of imaginary supercars littered my PeeChee folders.
But none of that readied me for the journey I was about to embark on.
The first time I set foot into the collection was an awe-inspiring experience similar to walking into the Vatican for the first time. It wasn't necessarily a holy experience but seeing the curated art on the walls, and the varying examples of different car designers throughout the past 100 years all under one roof made me stop in my tracks. Jay gave us the tour, pointing out car after car and telling quick stories about each of them. I feverishly scribbled all I could take down in the seconds before moving onto another row of drop-dead gorgeous heavy metal.
At one point we reached a simple door where Jay led us all into a smaller room that was dark. He switched on the lights in a theatrical fashion to a lot of oohs & awes. I lifted my head from my notes and couldn't hold back my words as "IT'S A DUESY" left my lips. Seeing the largest collection of running Duesenbergs in one place can easily stop you in your tracks. After a few chuckles from the group we moved on to our final destination: a 1941 American LaFrance fire truck.
The fire truck was going to be our first episode and I had all of 5 minutes to learn about it before we setup the shoot. After a quick pow-wow with Jay and the camera operator we decided to pull the huge vehicle out into the entry way and have Jay retell the story just as he told the group. In a very spontaneous fashion he said, "Get aboard" and off we went for a drive.
And we never looked back…
A lot of people have helped make our web show what it is today. I know that I am extremely grateful to everyone that has been a part of our family and I speak for Jay when I say thank you to the fans, guests, crew, and critics. All of you have left your mark on our web show. Make sure to subscribe to our You Tube Channel and dive deep into our archives on the official webstite.
I hope to share more of my automotive adventures at The Garage with you guys. We have a ton of new content planned that I think gear heads like you will enjoy. Thanks for coming along this far. If you want updates in real time make sure to follow me on Twitter @RobertAngelo or at @LenosGarage and leave any comments, questions and feedback below. There is plenty of road  ahead, I hope you join the ride.
-R
Here is the very first episode of Jay Leno's Garage
Photo Credit: Walker Dalton / NBC