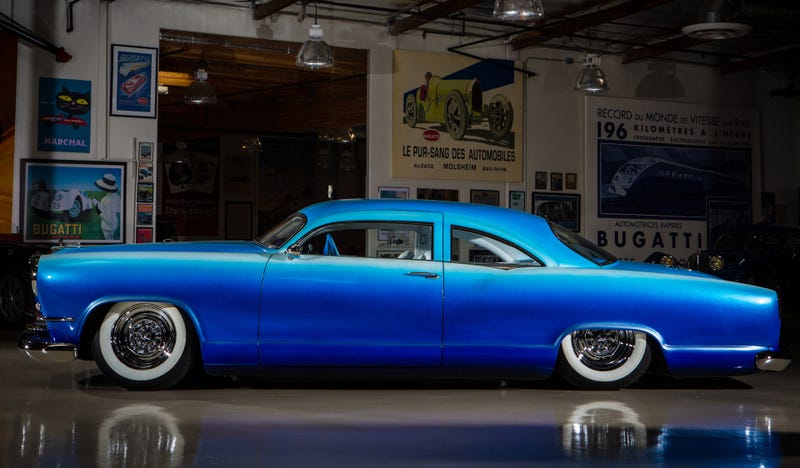 It was a scorching hot August summer day in the San Fernando Valley. I was driving my brand new 1991 Ford Escort GT through an industrial area to a muffler shop. A friend of mine told me that they could lower my car for sixty bucks. I pulled into the work bay and a guy with a welding helmet climbed down into the pit under my car. I few sparks later I saw the front end drop about 2 inches.
"Do you want it lower?" a voice boomed from under the car. 
I had no idea what I was doing, and the bouncy ride home was a shocking reminder of that. Fast forward to February 2013, it was a cold Saturday and we had a long day of filming in front of us. I pulled into The Garage and saw Keith Charvonia waiting outside with a big smile on his face. Keith brought his slammed 1951 Kaiser Drag'n custom that he spent 8 years of his life working on.
Now here's someone that knows what he is doing
Keith is an industrial designer that loves to tinker on all things mechanical. He's worked at Yamaha's design studio, OmniMount Systems, and is currently designing intake systems at Airaid Filter. He holds six patents and has won numerous awards for his industrial design. All of that hard work prepped Keith for the long nights he had to put into the Kaiser.
Keith rescued his project from the scrapyard for $150. He had the engine ripped out, loaded it on the trailer and hauled it home. That's when the real fun began. He chopped the roof about 6 inches, recessed the front windshield behind the dash, and reworked just about every inch of the Kaiser. 
"I learned the hard way, bought tools as I went"
Keith stayed focused for eight long years and all of his hard work paid off. When it came time to paint he brought it to the legendary custom car builder, Gene Winfield. Gene jumped right in, even cutting a hole in his hood to recess the ornament. 
The interior is furnished with '64 Thunderbird seats, custom speedometer, steering wheel, and Vintage Air unit. The air ride was smooth on the pothole-riddled streets of Burbank and the Kaiser demanded looks from everyone that it passed. 
I only wish I had the patience to take on a project as ambitious as Keith's 1951 Kaiser Drag'n. If you want to read all the details of Keith's 8 yearlong project, check out his website. I can't wait to see what Keith comes up with next. Maybe he will help me install some new springs on my Escort.
If you want to get in touch make sure to follow me on Twitter @RobertAngelo or @LenosGarage.
Photo credit: Walker Dalton